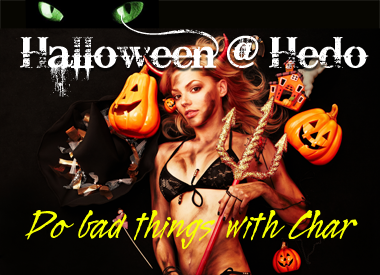 October 30 — November 6, 2021
Join Char & Jim and this annual group, for a howling great time at Hedonism II over Halloween. This is the time of year where things kick up a notch and sexy gets wild. Come let your inhibitions run crazy and enjoy all the extras that Char Travel's group will have this week.
Come see what goes bump in the night, and the daylight. Experience a most uninhibited week and get as freaky as you want
Venue
Hedonism II Resort
Negril, Jamaica
Getting There
Fly into Sangster International Airport in Montego Bay. Airport code MBJ.
We provide complimentary direct, roundtrip transfers to the resort and back to the airport for our guests; the bus ride is about 1 hour 20 minutes.
If you wish, there are several small commuter airlines that run flights to the Negril airfield across from the resort. Flights are about 15 minutes.
Rates and Accommodations
Garden View Prude (GVR)
Ocean View Prude (OVR)
Ocean View Prude Premium
Prude Beach Jacuzzi Suite (PBJ)
Prude Beach Jacuzzi Suite Premium
Garden View Nude (GVN)
Garden View Nude Premium (GVNP)
Ocean View Nude (OVN)
Ocean View Nude Upgraded (OVNU)
Ocean View Nude Premium (OVNP)
Nude Garden Jacuzzi Suite Premium (GNJP)
Nude Jacuzzi Suite (NBJ)
Nude Jacuzzi Suite Premium (NBJP)
Schedule
We will keep you informed of all the group activities planned.
Themes
Nightly themes will be announced
Tips
Take advantage of our Club MoBay VIP arrival and/or departure service.
Nearby things to do
Walk the 7-mile beach past all the other resorts
Visit Margaritaville
Enjoy the many restaurants in Negril
Take a cab to Rick's Café and watch, or join the cliff-jumpers
Catamaran cruises are available from the Hedo beach
Have lobster at the Office of Nature beach bar